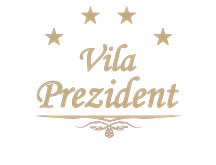 At only 1 km from the center of Sremski Karlovci, towards Strazilovo, there is Villa President **** which will surely evoke the atmosphere of Vojvodina.
The building is located on the slopes mountain of Fruska Gora, on the well-known road that leads to the resort Strazilovo and the monument to the famous Serbian poet Branko Radičević.
Ethno restaurant Vile Prezident offers guests top service combined with real local specialties. In an authentic, rustic ambience, you will simply forget what year it is and by the light of the fireplace, you will experience unforgettable moments! An addition to the restaurant is a rustic terrace, where you can enjoy a phenomenal view.
Within the Villa President there is an authentic Wine Cellar that will awaken a real hedonist in you! Ideal for celebrations, romantic evenings, bohemian nights, and even for guests who want to hold seminars and festive events in a creative and different way.
Enjoy real local specialties, the sounds of tamburitza players, a wide wine assortment and a divine environment!


Our Rooms
Spacious rooms that will allow you to relax and recharge your batteries! Ideal for two people or for individuals who want to enjoy the peace and quiet of this divine landscape.
View more


Apartments
Villa Prezident has accommodation capacity of nine rooms - VIP suite, 2 classic apartments, 4 rooms with double bed and 2 twin bedrooms.Every room and apartment has it's own
View more

Etno Restaurant
Ethno restaurant in Villa Prezident offers to the guests top service combine with real traditional specialties. In authentic, rustic ambience, you will simply forget which year it is and with the light of the fireplace, you will experience unforgetta



View more
Promo Offers
Promo Offers

Wine Cellar
In an attempt to recreate the historical importance of wine in Sremski Karlovci and provide an opportunity to taste more than 100 different kinds of wines, especially for you, at Villa Prezident, is a wine cellar that will reawaken your true hedonist



View more